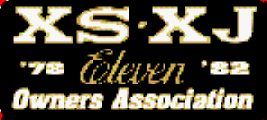 Welcome XSives
This section of my website if devoted to the
Yamaha XS11 '78-'82
(MouseOver will enlarge thumbnails. This page is slightly graphics-intense on loading. Be patient)
Hello and welcome to some details of my riding career to date (2001).
I was living, where I grew up, in Hawthorne,NJ. The year was 1993. At the tender age of 22, I had acquired my motorcycle permit and needed a motorcycle.
My First Bike:
My first motorcycle was a 1973 Yamaha TX500 with 3200 original miles purchased in 1993 for $400 cash. I rode the bike
for about 2 years visiting places such as Harriman State Park in Rockland County, NY and Super Sunday at

Marcus Dairy in Danbury, CT numerous times. Early 1996, I had ridden to Marcus Dairy to partake in the one-day event that is Super Sunday. It would be the last time I rode the TX500. I went for gas early that sunday morning. Rode back to the hotel I was staying at, shut the bike off, went upstairs to get my significant other, back down to the parking lot to start my bike back up and nothing but severe smoke billowed from the exhaust pipes. The head gasket was blown and I knew it. What to do? Without means of returning the bike to my home in NJ, I stripped it of all that was important and left it there. I know...shame on me. I regret doing that now because it was in such nice shape with low mileage that I know I could have fixed it. Life goes on... (Photo credit: Mr. David Covey; Overland Park, KS)
After blowing up my TX500 and leaving it in CT I was without a bike. Not that I'm a religious man but God sure does have a sense of humor. Everyday for the next three months I was forced to view this monstrosity of a motorcycle, for sale, sitting on the front lawn of a

middle class Midland Park, NJ family's home. My curiosity finally got the best of me and I stopped to investigate. Asking price for what I called "the godzilla of motorcycles" was $1200. Apparently their son was "afraid" of the bike. Being one not to turn down a testosterone rush, I offered $900 without a test ride. They accepted. I was the proud owner of the most awesome bike I would own yet... a 1978 Yamaha XS11E. Complete with Yamaha-brand hard saddlebags and trunk (shown installed by yours truly.) The bike needed one last part to make it truly high-mileage capable. A fairing complete with radio. (Hey, we all need music to drive by) (Photo credit: Vic Terraglia; Columbia, SC)
(1996) During a routine trip to a semi-local motorcycle junkyard (Weeks Salvage in Laurence Harbor) in southern NJ I found, sitting in the corner of the property, a Yamaha fairing which included a square headlight just like the one installed on my 78 XS11. I knew this fairing would match up perfectly with my bike. It was missing a windshield. I purchased the fairing for $40. Ordered a windshield. Vented. $60. All I needed was the mounting bracket and wiring harness.
My first seriously long ride was Americade 98. It was a four and a half hour (200 mile) ride which I did alone. Trust me when I say that I was scared and exhilarated at the same time. The bike ran flawless. Aside from a slight electrical problem in the stator which, everytime I hit those "speedbumps" on 87 North after making the interchange at Albany, NY from theNY State Thruway causing my entire electical system to shut down but keep the bike running without any sort of lights in pitch blackness. I was happier than a pig in...you can fill in the blank. Special thanks goes out to that nameless woman at the Baltimore rest area on the NY State thruway for that OH-SO special gift. She made a lonely trip well-worth it. <EFG> (Pictures of some of my memories from Americade 98 are in the Gallery.)
(1998) It took me almost two years to find the mounting bracket and wiring harness for the fairing. I finally did for $115. from a company called Cycle Empire. Apparently, they purchased all the N.O.S. Vetter stock when Vetter went out of business. (Some research turned up that the fairing which I had in my possession was made by Vetter for Yamaha.)
Since Americade 98, from my "homebase" in Hawthorne,NJ I've ridden to:
Destination: Approximate Roundtrip Mileage:
Americade 98,99; Lake George, NY 650
Baltimore, MD (the inner harbor RULES!) 800
New Hope, Pa 250
Connecticut (toured mostly backroads throughout the entire state.) 500
During the summer of 1999, with the help of two very good friends (Glenn and Roger...Thanks a lot!!) I removed the motor from the frame to repair a leak in the crankcase. What a job. Sorry no pics available. Basically, I re-seated the valves, replaced valve seals, honed the combustion walls, new rings and gaskets all the way around. Cost: $3000+
(Dec, 1999) I chose to uproot myself from my miserable existence in NJ to seek out more pleasant surroundings. I landed in Columbia, SC. Quite a change of pace. Here is a picture of my 78 XS11 not too long after my relocation, at the Hilton public boat launch on Lake Murray (Bass fishing anyone?) just outside of Columbia, SC; March,2000. (Photo credit: Vic Terraglia; Columbia, SC)
My Longest Ride Ever!
(June 29, 2000) At approximately 9:30am I embarked on THE longest saddle time I have ever logged to date. With my XS loaded to the max including a good selection of cassettes, I pulled away from my apartment in Columbia, SC headed for I-20 East and onto I-95 North headed for Hawthorne, NJ to visit

family for the July fourth weekend. My plan was to stop and spend the night in Virginia Beach, VA. When I arrived there at around 5pm, I wasn't in the mood to shop around for a reasonably priced room so I continued on. Making my way from the Chesapeake Bay Bridge/Tunnel to I-13 through Maryland and taking the interchange to I-113 and on to Lewes, DE for the ferry across to Cape May, NJ. I arrived in the state of NJ at around 11:00pm. I had only 3 more hours to go. 750 miles after leaving Columbia, I finally landed "home" at approx. 1:45am, 6/30/2000.
Depart Columbia, SC 9:30am 6/29/2000
Arrive Hawthorne, NJ 1:45am 6/30/2000
Mileage: 747 miles door to door 16 hours in the saddle
For my return trip from NJ to SC, I chose a different route. Taking I-287 west from Oakland,NJ to I-78 West thru PA. On to I-81 and finally connecting with I-77 to I-20 west in Columbia to I-26 west in St. Andrews area of Columbia, SC. Final Mileage tally: approx 1800 miles. While in NJ I did somewhere in the area of 300 miles worth of riding with some very good friends and family.
Depart Hawthorne, NJ 2:00pm 7/7/2000
Spent the night about 100 miles north of Roanoke, Va 11:00pm 7/72000
Arrive Columbia, SC 5:30pm 7/8/2000
(Feb. 2001) My XS11 is without trunk/luggage rack and saddlebags due to the fact that on my longest ride, both of my saddlebag mounting plates snapped at the shock top-mounting bolt and the luggage rack snapped at both rear mounting plates due to overpacking/stress from the road. I've yet to find someone in Columbia who can and will weld aluminum backing plates.